Type your cut contents here. ~Background~
Name: Rich
Age: 26
Birthday: May 28th
Astrological Sign: Gemini
I want to be voted as [girl/boy/doesn't matter]: Boy, please :)
~Please Explain When Needed~
Likes: Money, video games, expensive gifts
Dislikes: Pretentious people, hard work, cold weather
Strong Points: Physically strong, smart, good with words
Weak Points: Insensitive to tragedy, lazy, bad with numbers
Optimistic or Pessimistic: Pessimistic
Hyper or Calm or Normal Energy: Calm
Implusive or Analyze the situation: Analyze
Leader or Follower: Follower
Outgoing or Shy: Shy
Dreams: Only nightmares! :)
Describe yourself in 3 words: Pleasure in violence
~Favorites~
Color: Green
Animal: Bear!
Season: Autumn
Book: American Psycho by Bret Easton Ellis
Movie: Reservoir Dogs
Show: Not a TV watcher
Music: All shapes all sizes
Music Artist: And all kinds
Any other favorites you'd like to add: None!
~Questions~
What element do you most identify with and why?: If it counts, steel. If not, earth. I'm unbreakable and steady.
Someone's yelling at you and you don't know why, how do you respond?: I look at them like they're an idiot. Most likely, they are.
Who's view on mutant/human relations do you most identify with?: Magneto's!
Based on your personality/life, what power/mutation (if it could be chosen) would be most appropriate for you and why?: super-strength, because it would mesh well with my already pretty strong self, so I could handle it well.
Fav. X-men Character[s]: Colossus
Least Fav. X-men Character[s]: Rogue
~Anything else~
~Picture~
Me with the blonde!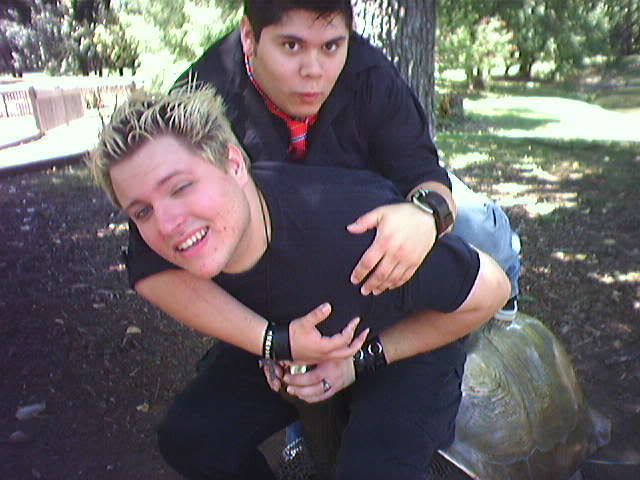 comments: Leave a comment